8 September 2010
47 participated in the Summer School in Manuscript Studies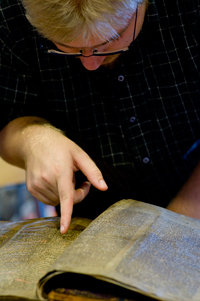 The Seventh International Summer School in Manuscript Studies, an 8-day intensive course in medieval and early-modern Scandinavian palaeography, codicology, editorial technique and the theory and practice of textual criticism, was held at the Arnamagnæan Institute from the 12th to the 20th of August.
The course, which comprises both lectures and practical sessions, is intended chiefly for graduate students (MA/PhD-level). This year, there were 47 participants from 17 countries, with the largest number coming from Germany, Great Britain and the United States. As in previous years there was both a basic and an advanced group, the former dealing principally with codicology, palaeography and basic transcription, the latter with textual criticism and editorial technique, as well as a 'Master Class' for those participating in the summer school for the third time.
The Eighth International Summer School will be held in Reykjavík, from the 11th to the 19th of August 2011.