Linguistic Laboratory
The Linguistic Laboratory is found in the fifth floor of building 22, room 22.5.13. The laboratory supports the classical disciplines of experimental phonetics: the physiology of speech, acoustics and perception.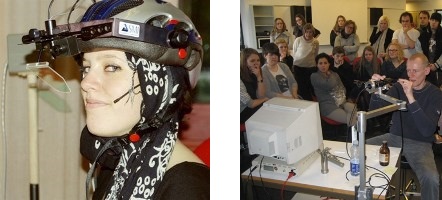 The laboratory offers:
A sound studio with professional playing and recording equipment for recorded speech sound in perception experiments and for audiologopedic experiments.
Recording equipment that can be borrowed for field work.
Audiological equipment.
A room for physiological measurements, for instance for the analysis of the vocal chords and measurement of air currents and air pressure.
Computer facilities for processing sound data.
Facilities for watching video material (the material is administered by the library).
Assistance in using these facilities as well as scientific sparring can be booked by contacting the laboratory technician.
All employees and students of the Department may use the laboratory for research and educational activities on the following terms:
In the laboratory, work is conducted into the technical aspects of and concerning multimedia.
All equipment loans must be registered by the technician and the user must be instructed in the use thereof.
The use of the sound studio and its microphone equipment requires instruction by a technician and sometimes also their presence.
The sound studio
Sound studio with control room equipped with professional recording equipment. For field work there is a collection of recording equipment that can be borrowed. Thorough instruction is provided upon issue.
The studio is used for
Recording speech sound for the purpose of analysis or different perception experiments
Audiometric testing (listening tests) by Audiologopedics students
The control room of the sound studio
The room is equipped with:
Recording equipment connected to the sound studio
Listening/viewing equipment (for playing sound or film)
Microphones of various brands and qualities
Room for physiological measurements
A room for physiological experiments is available and contains a collection of equipment for measurements:
A laryngoscope, with which to see (around corners) and film the vocal chords
Equipment for measurement of air currents and air pressure
An electroglottograph (EGG) with which to estimate the patterns of the oscillations of the vocal chords, for instance by exploring the quality of the voice
Various microphone equipment
New methods of measurement
Various clinical instruments
Anatomical boards showing the speech canal from different perspectives
The laboratory common room
The room is equipped with:
Computer facilities for processing sound data
A large table with space for nine computers, typically to be used by a teacher and eight students (for analysis of speech sound, often using the Praat programme)
Video projector and screen
Quality headphones
Various electronic instruments for measurements
Space for watching video material
Video archive (lending is administered by the library)
Room for watching video and sound presentations
The function is administered by the library.
Contact: Ruben Schachtenhaufen ruben.sch@hum.ku.dk