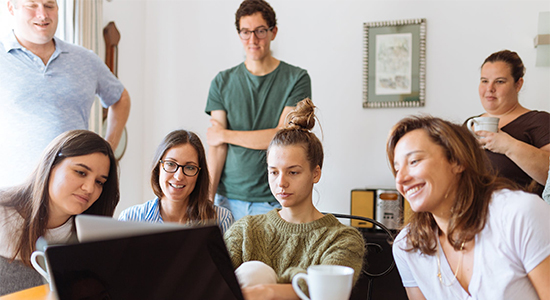 SoMeFamily - Language and Social Media in the Family
The SoMeFamily project investigates which communicative functions social media serves in the family and how social media affects family socialization today. This is studied by employing a linguistic ethnographic perspective on family life across online and offline contexts. This perspective allows us to study the intersections between family- and teenage life, (digital) linguistic practices and communication cultures across generations, and broader discourses of digital media- and family life. The research team carried out the fieldwork over 7 months among 39 high school students and 14 of the students' families. We collected different data types such as field notes, interviews, social media data, media go-along conversations and sound recordings from peer and family contexts.
The project shows that social media are an integrated part of family members' everyday lives and a significant part of their communicative repertoires. One of the main findings of the project is that family life with social media is more nuanced than depicted in dominating media panics, which reduces the understanding of peoples' media use to matters of 'digital addiction' and 'screen time' habits. Based on ethnographic observations, interviews and interaction analysis, the project documents that teenagers and their parents are not mere victims of technology. Rather, they are reflexive media and language users who agentively negotiate: 1) norms of digital language use and mode choices, 2) the ethical aspects of digital monitoring, privacy and parental involvement and 3) rules of smartphone use and digital behaviour in the family.
Funding
The project runs from 2018-2021 and is financed by The Danish Council for Independent Research / Sapere Aude Research Leader.