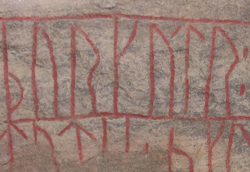 Runeology
Since the 1990's name researchers have provided research and teaching in runology at the University of Copenhagen, and several congresses about runological research have been arranged in cooperation with the Runological Laboratory at the National Museum.
The library contains a large collection of runological literature, just as the Arnamagnæan Collection contains several manuscripts written in runic script or with runic annotations.
Types of runic script
Runic script is ordered according to three periods:
Older runic runes using the elder futhark, also known as the 24 character futhark, which was in use ca. ca. 150–650 AD.
Viking Age runes using the younger futhark, also known as the 16 character futhark, which was in use ca. 725–1075 AD.
Medieval runes with an expanded younger futhark, which was in use ca. 1100–1400 AD.
There are additionally newer runes dating from the Renaissance until modern day.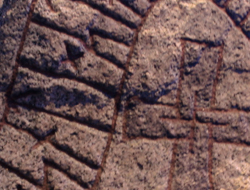 Runological research at the Department
Runological research at the department has been concerned with particularly Viking Age and medieval inscriptions. Three PhD-dissertations have been written over the past decade, and a great number of articles about Danish, Norwegian and Swedish inscriptions have been published, among these articles concerning newly found inscriptions.
The research project Danish Runic Inscriptions
In 2003 the project Danske Runeindskrifter (Danish Runic Inscriptions) was started in cooperation with the National Museum of Denmark. The project has established a comprehensive database of all runic inscriptions in Denmark, as well as in the former Danish territories of Southern Schleswig (now German), Halland, Scania and Blekinge (now Swedish). In 2009 the database became publically accessible via the project website, and it is maintained at the Department and is regularly updated with new inscriptions, pictures and more.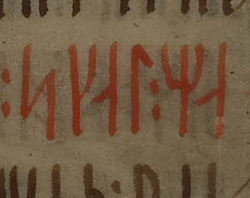 Runic manuscripts in the Arnamagnæan Collection
As an offshoot of the EU project DARIAH there was a great deal of interest in manuscripts containing runic material in the Arnamagnæan Collection in 2009-2010.
In addition to the most famous runic manuscript, Codex Runicus, AM 28, 8°, there are original tracings of Norwegian, Danish and Swedish runic inscriptions from the early-17th century, which were used by Ole Worm in his work Danicorum Monumentorum libri sex from 1643. The preparatory works to Worm's treatise are now available digitally as a result of this project.