When Danes prayed in German
This research project examines the role of Low German in the transition from Latin to Danish in devotional manuscripts from the late middle ages and early modern era.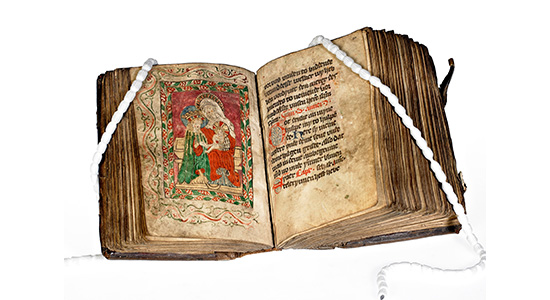 A common misconception holds that religious devotion was practiced solely through the medium of Latin until the Reformation. However, devotional books already began to appear in the vernacular in Denmark during the Middle Ages; not only in Danish, but also in another vernacular, Low German. In many devotional books, both languages are used.
This project examines the role of Low German in the transition from Latin to Danish as the primary language of religious devotion. It tests the hypothesis that Low German was the first vernacular used in devotional books in Denmark and that it retained a higher prestige than the local Danish tongue. It also tests the hypothesis that prayers and the canonical hours in Danish were not translated directly from Latin, but rather via Low German.
The project is divided into three work packages integrating the three research disciplines Historical Sociolinguistics, Material Philology, and Natural Language Processing to address the following research questions:
Was Low German used as a prestige language within the domain of religious devotion in Denmark during the late medieval and Reformation periods?
Can the movement of religious texts and manuscripts into Denmark be traced to specific monastic environments in Northern Germany?
Were vernacular Danish prayers and the canonical hours translated via Low German rather than directly from Latin? 
To answer these questions, the project investigates devotional manuscripts produced and/or used in Denmark during the period 1350-1600.