The history of the manuscript collection
The Arnamagnæan manuscript collection is named after its founder, the Icelandic philologist and historian Árni Magnússon (Latinised: Arnas Magnæus, in Danish: Arne Magnusson).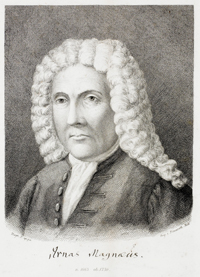 Árni Magnússon was born in Iceland in 1663 and went to Copenhagen in 1683 to study theology.
Even before having completed his studies at the University of Copenhagen, he was hired as the personal secretary to the royal antiquarian, Professor Thomas Bartholin the Younger (1659-90). Following Bartholin's death Árni Magnússon was appointed secretary at The Royal Archives (Det Kongelige Gehejmearkiv), now The Danish National Archives (Rigsarkivet), a position he retained for the remainder of his life.
In 1701 Árni became professor of Danish antiquities at the University of Copenhagen; a position to which Ludvig Holberg was appointed upon Árni's death in 1730. Concurrently with these positions Árni spent much of his life collecting manuscripts.
About 500 of the manuscripts are vellum manuscripts from the middle ages, some of which are severely damaged or fragmentary/defective, but Árni maintained that even the smallest fragments could be of great cultural and historical significance. The remaining 2000 manuscripts are mainly post-reformation paper manuscripts. They are, however, of no lesser significance, as many are typically copies of lost or damaged medieval vellum manuscripts.
In addition to the manuscripts, Árni gathered a large number of medieval legal documents and made sure to acquire transcriptions if the owners would not part with the originals. Furthermore Árni wrote down any information regarding the history of a manuscript, including names of former owners, and this information is invaluable to scholars today.
Árni Magnússon's will
Shortly before his death in 1730, Árni bequeathed his collection of manuscripts and printed books as well as his fortune to the University of Copenhagen. The collection at that time consisted of approx. 2500 items, of which the earliest dated back to the 12th century. The bulk of the manuscripts are of Icelandic origin, but the collection also contains Norwegian (approx. 250), Danish (ca. 250) and Swedish (approx. 30) manuscripts, as well as approx. 100 manuscripts of other provenance.