Approval of names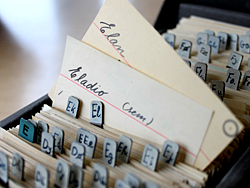 From 1972 to 2006 the then existing Institute of Name research did consultancy work for the Ministry of Ecclesiastic Affairs helping with almost 15,000 applications for approval of first names. The correspondence about these cases is kept in the section's archives to which there is limited public access.
From 1950 to 1972 the department did not yet have a consultancy role, but individual name researchers participated in a personal names committee under the ministry. From this period there is an alphabetic slip collection of applications for approval of names. This collection has been transferred to the section's library from the Ministry of Ecclesiastic Affairs' registration office.
Bought and protected names
The section's library also houses a number of printed name sources, among them lists of newly created family names which were available from the beginning of the 1900s. These are the so called bought names. The applications for bought names are kept in the Provincial Archives.
In addition to these there are official lists of the so-called protected names publicised by various authorities from the 1920s and until the new law on personal names from 2006. Finally there are also printed lists of approved first names from the 1960s and until 1997. From 2006 onwards updated lists of approved first names and family names open for everyone to acquire are available at the government homepage about names.