Old personal names of Denmark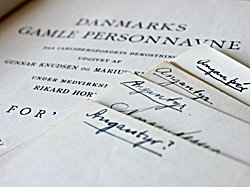 The collection of old personal names of Denmark is written on more than 300,000 slips containing names from the Runic Age onwards to ca. 1500. These slips are the preparatory studies for the work Danmarks gamle Personnavne (Old Personal Names of Denmark) which was published in booklets between 1936 and 1964 after seven years of writing and categorising slips containing name occurrences.
The name material is separated into personal names and bynames and is mainly derived from the chronological collection of diplomas. In the printed work Danmarks gamle Personnavne (Old Personal Names of Denmark) it has been necessary to leave out documented occurrences due to lack of space. In this connection the collection of slips are an invaluable supplement. It is also useful to verify if the printed version's name forms and source references are correct.
Post-medieval names
The collection of post-medieval personal names has not been fully established yet. The collection contains all types of names and includes transcripts of some important sources from the 1500s and 1600s.
The Danish Agricultural History Society's registration of claims 1513 to 1550 contains place names and personal names in all documents from the period concerning claims for land property – mainly farms, fields, meadows and forests. The registration covers the present Denmark, Scania (in modern Sweden) and South Schleswig (in modern Germany).