Topographical collections
The topographical collections of place-names are for the most part ordered lists of name material. The lists are collected by parish and placed according to the same order as is used in Trap: Danmark (a statistical and topographical description of Denmark, first published in 1858-60), and is also followed by the Dialectology Section, the Danish Folklore Archives, the reference work Danmarks Kirker (Churches of Denmark, published by the National Museum) and several other institutions.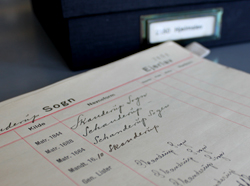 The topographical collections are the chief basis for the publication of Danmarks Stednavne, which follows the same topographical order.
Within the individual parishes the name material is ordered according to townland land lot. The topographical material mainly contains material pertaining to settlement names collected from older and younger written sources - both printed and unprinted. Furthermore it contains a list of locally recorded pronunciation forms from the 1910s, cf. Reports and records, as well as transcripts of various field-names, usually from the preliminary surveys for the Land Register of 1688 and – in the case of Jutland - cadastral maps from c. 1800.
The name forms are always identified by date, so they can be found in the chronological collection, or by combination of date and source reference, so they can be found in the source(s) in question.
Card catalogue
Usually the names of anything other than larger landmasses and settlements are only known from post-medieval times. Field-names and topographical names are generally known from cadastral maps from the late-17th century and enclosure maps from the late-18th century.

The collection of these names is not complete, but is constantly expanding. A large part of the registered names is, in addition to being recorded in lists, written on index cards which are ordered according to parish and then alphabetically.
Names of bodies of water
Names pertaining to things that are not on land occupy a special position the topographic collections. The Section has registered the names in the writings of cartographer Jens Sørensen (records from ca. 1690 to 1720). Additionally there are registered names from various charts and maritime maps and orally transmitted recordings made by the Institute for Name Research in the 1920s.
The names are as far as possible identified to positions denoted on the Section's collection of nautical maps, and the name is printed on index cards which are sorted alphabetically into a total of 11 different bodies of water.